But who is SisterCatBlankets?
My name is Léonore, I am autistic, I am 28 years old and I live in France..
In early 2015, I heard about weighted blankets and the benefits they can bring to people with autism and/or anxiety. At that time, it was necessary to count a budget of approximately $400 for an adult size weighted blanket imported from the United States. So I decided to learn to sew and make my own weighted blanket.
SisterCatBlankets was born in 2016, about 6 months after my own diagnosis of ASD. After talking to several autistic people via social media, I found that it was still impossible to order a weighted blanket in Europe for a reasonable price. So I took a cue from AutisticRabbit, which made weighted blankets in the US to help other autistic and neurodivergent people; and I created SisterCatBlankets.
I could never have anticipated the adventure that this decision would unleash. Today SisterCatBlankets is my full time job and I couldn't be more grateful to everyone who has helped me. To my knowledge, I was the first autistic person to make weighted blankets in Europe.
What is a weighted blanket?
Weighted blankets are fabric blankets that are weighted with plastic poly pellets or micro glass beads. Weighted products, thanks to the weight distributed over the whole body, bring a feeling of calm when you put them on yourself by stimulating the proprioceptive sense. They are therefore a great help for autistic, hyperactive or anxious people, to calm down and to help sleep.
Explanatory flyer (in French) made by @tonnerredefeu, don't hesitate to share it around you!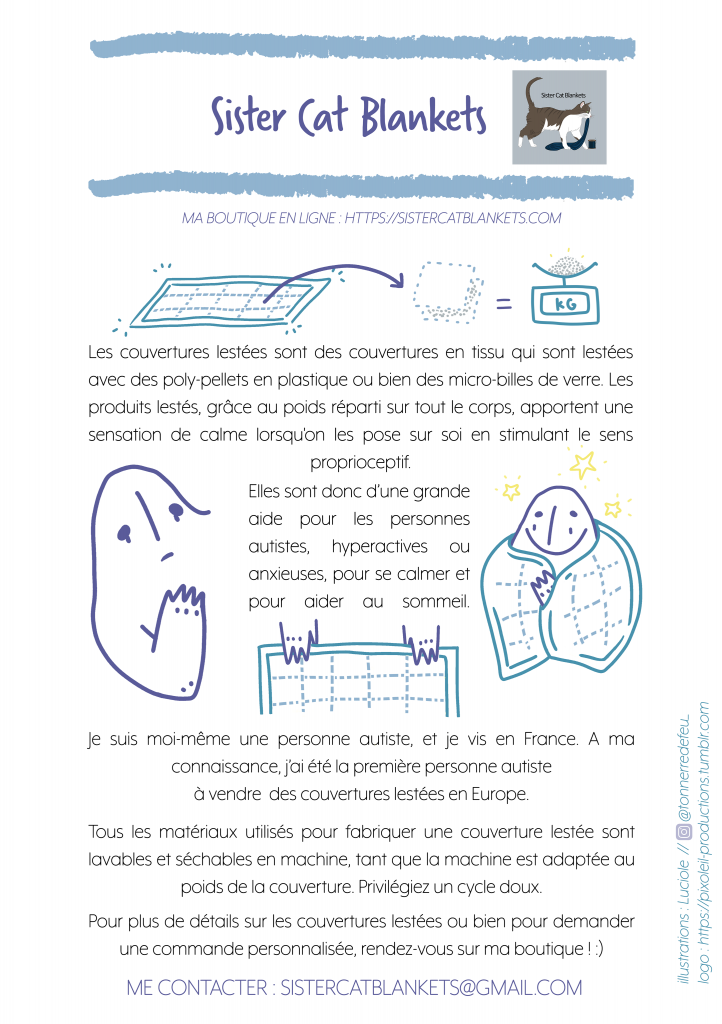 For the autistic community
In order to contribute to the autistic community, I had a partnership with Stimtastic to distribute free or partially funded weighted blankets to autistic people in Europe who cannot afford a weighted blanket. Unfortunately Stimtastic has stopped its activity.