What is a weighted blanket?
Weighted blankets are weighted with micro glass beads. Weighted products, thanks to the weight distributed over the whole body, bring a feeling of calm when you put them on yourself by stimulating the proprioceptive sense. They are therefore a great help for people with autism, hyperactivity, or anxiety, to calm down and improve sleep.
More details are available in the Presentation section!
What are the characteristics of a weighted blanket??
The standard size for adult blankets is 1m x 1.80m and the standard size for children's blankets is 0.9 x 1.40m. My weighted blankets are cotton and can be weighted with micro glass beads or plastic poly pellets. The plastic poly-pellets option is only available on my Etsy shop or as part of a custom order.
What are the different types of products offered?
(click on the links to access the prices of the products)
Want to order a one-of-a-kind weighted blanket?
    If you would like a weighted blanket with one or more of the following modifications, please feel free to contact me:
another size (such as a double weighted blanket)
another fabric (either another material or a patterned fabric)
another weight (a weighted blanket) heavier than 13kg)
another type of ball (such as plastic poly-pellets)
fleece or padding…
I will do my best to create the perfect weighted blanket for you! 🙂
What weight and type of beads should I choose for my weighted blanket?
To find out how much the weighted blanket should weigh, take 10% of the weight of the person who is going to use it and add 500g. For example, a person weighing 60 kilos would need a blanket weighing 6.5 kilos.

Plastic poly-pellets cost 1.5 Euros for 500g, have the texture of round grains of rice, make a little noise when the cover moves, and retain heat a little better than glass. The glass micro-beads cost 0.5 euros for 500g, have the texture of grains of sand, make very little noise, and are cooler to the touch. The plastic poly-pellets option is only available on my Etsy shop or as part of a custom order.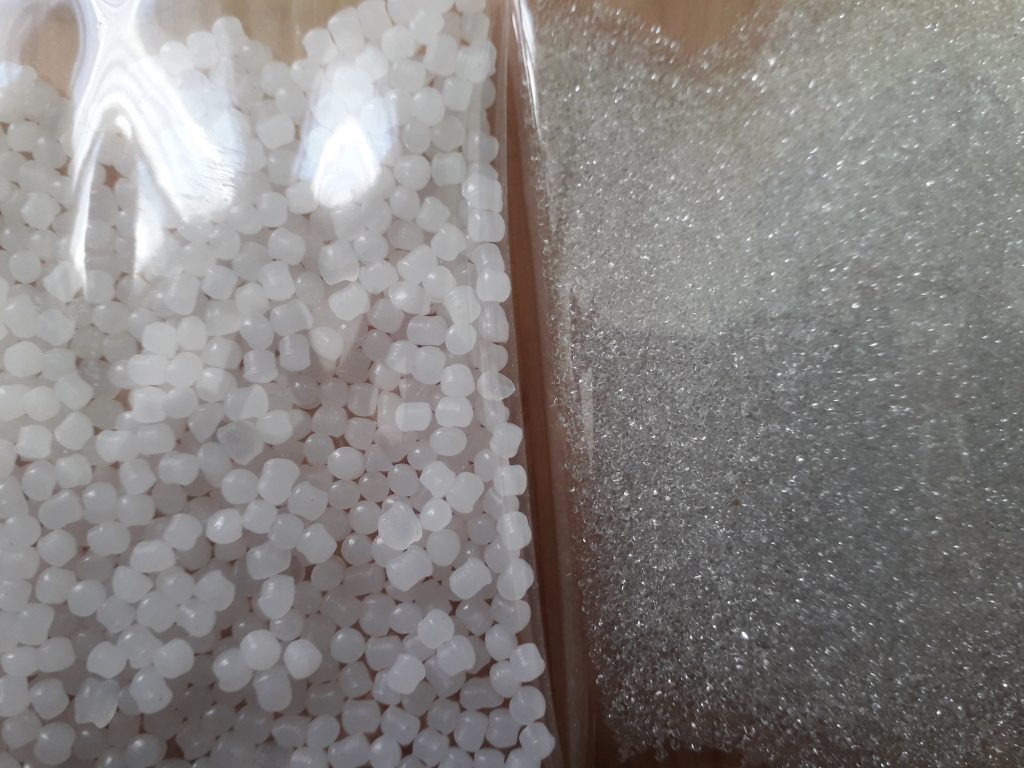 Are weighted blankets washable?
All materials used to make a weighted blanket are compatible with washing machines and dryers, as long as the machine is rated for the weight of the blanket. Prefer a gentle cycle, with a temperature of around 30°C.

This information will be given on the label of your blanket. If you want to preserve your blanket between washes, you can use a cover. Also, if you have a cat, I highly recommend protecting your blanket with a cover.
Order tracking and shipping time
You will receive a second email with your tracking number when your order is complete and shipped. You will receive a paper copy of your invoice in your package. If you need a pdf copy, do not hesitate to contact me. Current average lead time is 6-8 weeks for a weighted blanket and 1-2 weeks for a weighted pillow.
Caution
Use of a weighted blanket by a child: Weighted blankets are not suitable for children under two years of age. The weight of a weighted blanket should never exceed the recommended weight for a child. The child must consent to the use of the weighted blanket. Do not hesitate to seek the advice of a health professional regarding the use of a weighted blanket by your child.
Like any other blanket, a weighted blanket should be well maintained, cleaned regularly, and stored in a clean, dry place when not in use. Also, because of its weight, a weighted blanket can wear out after a few years. If the fabric tears and poly-pellets or micro glass beads escape through the tear, stop using the cover until it can be repaired. It is not recommended for people who do not have the strength to lift a weighted blanket to use one for safety reasons. It is necessary to be able to push it back if necessary. I cannot be held responsible if improper use of a weighted blanket causes adverse consequences.

Allergies: Additionally, I live in a smoke-free home, but I live with a cat. Although she is not allowed in the room when I sew a weighted blanket, I cannot guarantee that weighted blankets are 100% cat hair free.